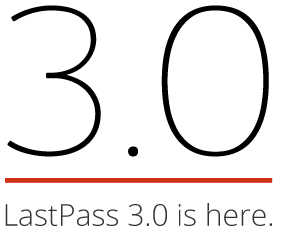 You'll love the clean design and the unobtrusive feel.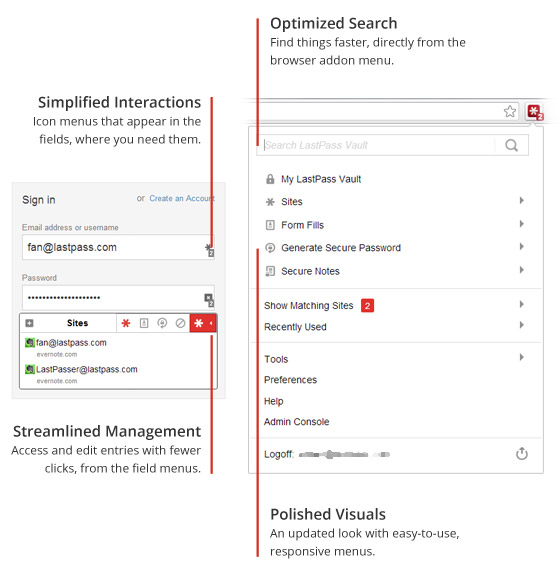 Enjoy updated Android and iOS apps, with a more powerful browser experience for easier navigating, site saving, and password generating.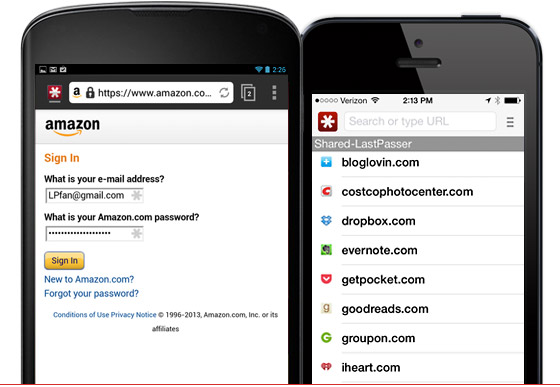 And…introducing a LastPass Family Feature.
Add up to 5 people to a Shared Folder,
where you can easily give access to joint accounts.

Go Premium
Recent changes to LastPass:

Show nightly release notes

v3.0.0 - Nov 4th 2013 -- All Browsers

New: LastPass icon in input fields can now be clicked, replaces notification bar to fill.
New: Chrome UI gets a complete redesign.
New: Android app has a modern 'holo' UI, multitab support, clickable icons, better search.
New: iOS app also now has a multitab browser, clickable icons, better search.
New: LastPass Family Feature - premium users get 1 shared folder that they can share with up to 5 family members.
New: Immediate syncing for all users.
New: Search directly from toolbar dropdown menu.
New: Website and Enterprise Console redesign.
New: Transakt multifactor option.
New: Better cleanup of generated passwords.
New Enterprise Feature: Shared Folders can be shared with LastPass users outside your enterprise (up to 3 per folder).
New Enterprise Feature: Policy to require multifactor login for enterprise console.
Improved: Windows Metro app UI updated, fixes for Windows 8.1.
Improved: LastPass for Applications now has type-to-search, window matching, environment variable expansion, and a "copy application" command to make it easier to work with many entries of the same application.
Resolved: Chrome basic auth filling fixed.
Resolved: IE local vault fixed on Windows 8.1.

v2.5.4/5 - Aug 22nd 2013 -- Chrome

Fixed: Identities menu in toolbar.
Fixed: Multiselect delete in vault could inadvertently select other sites.
Fixed: URL Rules issue where the full list of correct sites might not be offered.
Fixed: Create account wizard.
Fixed: Work around a chrome bug where the popup would sometimes be shown as a small bubble.
Fixed: Make omnibar search case insensitive.
New: Warn users if the server asks for a reduction in pbkdf2 iterations.

v2.5.0/1/2 - Aug 16th 2013 -- All Browsers

New: Immediate syncing of changes to other devices is being rolled out for all users in stages -- if you've disabled polling (Preferences -> Advanced), the immediate sync connection is also disabled.
New: Now Duo Security and Toopher multifactor options.
New: Secure Note History available on website.
New: Weak and duplicate password notifications in IE.
New: IE plugin supports upcoming Windows 8/IE 11 update.
New: More Secure Note templates - Health Insurance and SSH Keys.
New: Email subscription preferences.
Resolved: Security issue with IE exclusively while logged in to LastPass only: Prevent IE from adding passwords to in memory decryption cache.
Resolved: Firefox 22 change broke loading of binary component.
Resolved: Better handling for logmein.com URLs.
Improved: Better support for handling a large number of secure note attachments.
Improved: New premium/enterprise payment option: Direct Credit Card.
New Enterprise Feature: Security Score history now available so you can track your progress.
New Enterprise Feature: Secure note logging.
New Enterprise Feature: Security scores are now calculated for Shared Folders.
New Enterprise Feature: Notification Center to better engage your employees.
New Enterprise Feature: Site Password Length Restriction policy.
Improved Enterprise Feature: Link personal account now present in local vault.

Older changes to LastPass:

View older changes to LastPass.




Want More Features?






How Secure Are You?






Have a Question or a Problem?






Find Out What's New!