SSO 2.0 HAS FINALLY ARRIVED
Technology Overview
Technology, security, and ease of use are what separate LastPass Enterprise from all other existing SSO solutions. LastPass Enterprise builds on top of the innovative award winning base of the LastPass consumer offering. We're bringing the same spirit of innovations to the SMB and Enterprise market. We're supporting every major platform, every major browser, every major smart phone while adding the logging, reporting, and management features that businesses demand.
The basics are covered on the
LastPass Premium Technology
page. Enterprise builds on top of this.
SaaS + Host-Proofing
A key technological advantage LastPass Enterprise has over other SSO providers is it combines the flexibility of a SaaS model combined with the security of
Host-proofing
. SaaS allows LastPass to offer single sign on in mobile and shared workstations environments from any computer and any mobile device. At the same time, all confidential information is encrypted before it leaves the end user's PC in a manner whereby no one except the end user can decrypt the data. This allows LastPass to be immune from threat vectors both internal and external to organizations.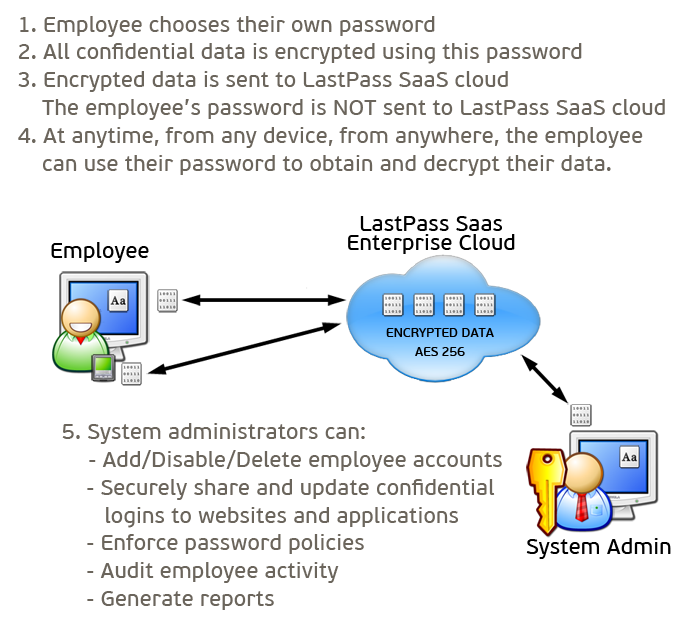 On-Premise Solution
For very large deployments (>1000 users), an On-Premise solution that retains all of the benefits of an SaaS model is also available. Please contact us for additional details.